An abridged version of the classic story chichan no kageokuri for Japanese Reading Practice
Kimiko Anma lived in China as a child during WWII. She returned to her country at the age of 19, after Japan's defeat.
Several of her works are featured in elementary school textbooks in Japan and are thus read by millions of Japanese children every year. Her stories combine Japanese cultural sensibilities with a nod to classic children's storytelling from around the world. Her stories are influenced by authors such as Kenji Miyazawa.
Chichan's Shadow Game is the tragic and deeply moving tale of child's view of the hardships of war. It is told in a matter-of-fact, quasi-objective way that somehow makes the tragedy all the more moving.
When I came across this in my child's reading book when he was in grade 3 at Japanese school, I was truely shocked by the somewhat brutal, though deeply touching, nature of the story I was being asked to read my child. I have noticed that there no shortage of such dark, lest-we-forget, type tales in the literature being taught Japanese children. The Japanese are less squeemish about this than much of the English speaking world.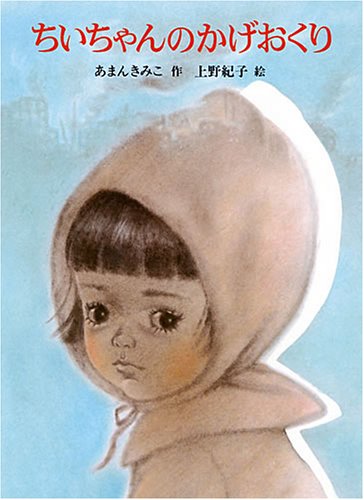 ちいちゃんのかげおくり      
あまんきみこ作
「かげおくり」って遊びをちいちゃんに教えてくれたのは、お父さんでした。
出征する前の日、お父さんは、ちいちゃん、お兄ちゃん、お母さんをつれて、先祖のはかまいりに行きました。その帰り道、青い空を見上げたお父さんが、つぶやきました。
「かげおくりのよくできそうな空だなあ。」
「えっ、かげおくり。」
と、お兄ちゃんがきき返しました。
「かげおくりって、なあに。」
と、ちいちゃんもたずねました。
「十、数える間、かげぼうしをじっと見つめるのさ。十、と言ったら、空を見上げる。すると、かげぼうしがそっくり空にうつって見える。」
と、お父さんが説明しました。
「父さんや母さんが子どもの時に、よく遊んだものさ。」
「ね。今、みんなでやってみましょうよ。」
と、お母さんが横から言いました。
 ちいちゃんとお兄ちゃんを中にして、四人は手をつなぎました。そして、みんなで、かげぼうしに目を落としました。
「まばたきしちゃ、だめよ。」
と、お母さんが注意しました。
「まばたきしないよ。」
ちいちゃんとお兄ちゃんが、やくそくしました。
「ひとうつ、ふたあつ、みいっつ。」
と、お父さんが数えだしました。
「ようっつ、いつうつ、むうっつ。」
と、お母さんの声も重なりました。
「ななあつ、やあっつ、ここのうつ。」
ちいちゃんとお兄ちゃんも、いっしょに数えだしました。
「とお。」
目の動きといっしょに、白い四つのかげぼうしが、すうっと空に上がりました。
「すごうい。」
と、お兄ちゃんが言いました。
「すごうい。」
と、ちいちゃんも言いました。
「今日の記念写真だなあ。」
と、お父さんが言いました。
次の日、お父さんは、白いたすきをかたからななめにかけ、日の丸のはたに送られて、列車に乗りました。
「体の弱いお父さんまで、いくさに行かなければならないなんて。」
お母さんがぽつんと言ったのが、ちいちゃんの耳には聞こえました。
ちいちゃんとお兄ちゃんは、かげおくりをして遊ぶようになりました。
夏のはじめのある夜、空しゅうけいほうのサイレンで、ちいちゃんたちは目がさめました。
「さあ、急いで。」
お母さんの声。
外に出ると、もう、赤い火が、あちこちに上がっていました。
けれど、たくさんの人に追いぬかれたり、ぶつかったり―、
ぶつかったり、追いぬかれたり―
ちいちゃんは、お母さんとはぐれました。
「お母ちゃん、お母ちゃん。」
ちいちゃんは、ひとりぼっちになりました。ちいちゃんは、たくさんの人たちの中でねむりました。
朝になりました。町の様子は、すっかり変わっています。あちこち、けむりがのこっています。どかがうちなのか―。
家は、やけ落ちてなくなっていました。
その夜、ちいちゃんは、ざつのうの中に入れてあるほしいいを、少し食べました。そして、こわれかかった暗いぼうくうごうの中でねむりました。
「お母ちゃんとお兄ちゃんは、きっと帰ってくるよ。」
くもった朝が来て、昼がすぎ、また、暗い夜がきました。ちいちゃんは、ざつのうの中のほしいいを、また少しかじりました。そして、こわれかけたぼう空ごうの中でねむりました。
明るい光が顔に当たって、目がさめました。
「まぶしいな。」
ちいちゃんは、暑いような寒いような気がしました。ひどくのどがかわいています。いつの間にか、太陽は、高く上がっていました。
そのとき、
「かげおくりのよくできそうな空だなあ。」
というお父さんの声が、青い空からふってきました。
「ね。今、みんなでやってみましょうよ。」
というお母さんの声も、青い空からふってきました。
 ちいちゃんは、ふらふらする足をふみしめて立ち上がると、たった一つのかげぼうしを見つめながら、数えだしました。
「ひとうつ、ふたあつ、みいっつ。」
23いつの間にか、お父さんの低い声が、重なって聞こえだしました。
「ようっつ、いつうう、むうっつ。」
お母さんの高い声も、それに重なって聞こえだしました。
「ななあつ、やあっつ、ここのうつ。」
お兄ちゃんのわらいそうな声も、重なってきました。
「とお。」
ちいちゃんが空を見上げると、青い空に、くっきりと白いかげが四つ。
「お父ちゃん。」
ちいちゃんはよびました。
「お母ちゃん、お兄ちゃん。」
 そのとき。
体がすうっとすきとおって、空にすいこまれていくのが分かりました。
一面の空の色。ちいちゃんは、空色の花畑の中に立っていました。見回しても、見回しても、花畑。
Chii's Shadow Game
By Kimiko Anma
Translated and abridged by Peter Head
Chii first learnt about the game called  "Kageokuri" from her dad.
The day before her father's deployment to war, Chii's Dad took Chii with her brother, and her mother, to visit the ancestral graves. On the way, he looked up at the blue sky and muttered. "This is the perfect sky for doing Kageokuri"
"Kageokuri", repeated Chii's brother.
"What's Kagekuri?", asked Chi.
"Well, you stare at shadow for a while, you count to ten and then look in the sky. You'll find that the shape of the shadow you have been looking at is projected in the sky before your very eyes." explained the dad.
"Your mum and I used to play when we were kids."
The mother interjected, "Hey. Why don't we all try it now!"
With that, the four joined hands, with Chii and his brother on the inside, and everyone stared down at their shadows.
"Don't blink!", said the mother.
"We won't", replied the children.
"One, two, three", said the father.
"Four, five, six", joined in the mother.
"Seven, eight, nine", chimed in Chii and her brother.
"Ten"
The family turned their eyes to the sky and saw four white shapes projected there.
"Wow."
Said Chii's brother.
"Wow!" said Chii.
"Well, that will be today's commemoration photo" said the father.
The next day, sent off by the waving of the rising sun flags and with a white cord strung diagonally across his body the father boarded a train.
Chii's ears were close enough to hear her mother say, "I can't believe even my weak husband now has to go and fight"
Chii and her brother came to play kageokuri regularly. They played kageokuri as they sent their father off, swinging their arms in the sky to "Banzai!". 
One night in early summer, Chii's household was awoken by an air-raid siren.
"It's time to move"
Chii heard her mother's voice.
Outside, many red flames were already rising in the night sky.
Chii's mum took Chii and her brother's hands and ran.
But Chii was overtaken by other's running, bumping into her, and overtaking her once again. She was separated from her mother.
"Mum, mum.", she yelled.
Chii was alone.
That night, she slept amongst a crowd of strangers.
Morning came. The appearance of the town had changed completely. Smoke lingered here and there. Where is home?
The house was fallen and gone.
That night, Chii ate a little bit of dried rice from a duffel bag. She slept in a dark air-raid shelter.
"I'm sure my mum and brother will come back"
The cloudy morning came, the day went by, and the dark night came. Chii took a few bites of her dried rice and once again slept in the broken air raid shelter.
She awoke to a bright light on her face.
"It's so bright"
Chii felt a strange combination of hot and cold. Her throat was badly parched. Somehow, the sun had risen high in the sky.
At that moment, she heard her father's voice from somewhere above her, as if he was calling to her from the sky.
"This is the perfect sky for doing Kageokuri"
"Why don't we do it all together?", joined in her mother's voice from the sky too.
Chii stood up with shaky legs, and started counting, staring at a single shadow.


"One, two, three, four." 
Before she knew it, she could hear her father's low voice joining in. 
"four, five, six"
Next, the higher voice of her mother joined in.
"7, 8, 9"
The soft voice of her brother joined too.
"Ten" 
Chii looked to the sky. She saw there are four distinct white shadows outlined above her. 
"Dad!", she cried.
"Mum, brother".
In that second, she found that her body was becoming see through, as if it was being absorbed in the sky. 
Everything was the colour of sky. She stood in a flower garden the colour of sky. Around and around, all she could see was flowers.
ペイヴメントのRange Lifeは90年代の二つのオルタナティヴバンドの20年間に渡る諍いのきっかけになった曲です。 歌詞の中に「スマッシングパンプキンズ」が出てきますが、スマッシングパンプキンズのビリー・コーガンはこの曲を聞いてとても怒りました。 ビリー・コーガンは1994年のロラパルーザに出演の際、もしペイヴメントが出るならスマッシングパンプキンズは出ないと主張し、ペイヴメントが出演出来なくなったということがありました。 問題になった歌詞を後ほど紹介します。 Range Life 和訳 After the glow, the scene, the stage 白熱、シーン、舞台の後 The sad talk becomes slow 悲しい話は遅くなる But there's one
Read More »
Japanoscope is a registered affiliate with several online shops and may receive a commission when you click on some of the links within content.
I'm Peter Joseph Head. I lived in Japan for four years as a student at Kyoto City University of the Arts and on working holiday. I have toured the country six times playing music and speak Japanese (JLPT N1).
ピータージョセフヘッドです。3年間京都市立芸大の大学院として、一年間ワーキングホリデーとして日本に住み、6回日本で音楽ツアーをし、日本語能力試験で1級を取得しました。要するに日本好きです。
Podcast: Play in new window | Download