There are really only three dedicated Japanese Stationery boxes on the market at the moment, the Inku, the Zenpop and the My Japan Box.
My pick of them is Zenpop – mostly from aesthetic point of view, but if you're into the ultra-cute, then Inku is a great option too.
None of these Japanese stationery boxes are super cheap, but the nature of the Japanese Subscription Box market it is that companies are basically taking items that are pretty cheap in Japan, giving them a pretty steap mark up, and then reselling them in boxes. But, of course, the rub is that they are giving you access to stuff you probably wouldn't be able to get otherwise. They are also curating. So they are adding value.
In fact, of the different boxes on offer, Japanese stationery subscription boxes perhaps make the sense in that it is still pretty hard to get most Japanese stationery outside of Japan. More so than sweets and snacks which are becoming more available these days.
With that in mind, let's look at some of the stationery boxes!
Japanese Pen & Stationery Subscription Boxes Comparison Table
| Name | Price/ Month | Number of Items | Price Per Item | Category | Special Characteristcs | Shipping | Free Shipping |
| --- | --- | --- | --- | --- | --- | --- | --- |
| Zenpop Stationary | $30.00 | 9 | $3.33 | SnacksRamenMixed | Cute and high quality Japanese stationery products every month, direct from Osaka | | No |
| Kizuna Box | 29.99 to 34.99 | 10+ | #VALUE! | Object | | | Yes |
| My Japan Box | Starts from 29.99 | 10+ | #VALUE! | Object | 40+ options! | | Yes |
| Kawaii Box | $29.90 | 7 | $4.27 | Kawaii | 6-8 items plushies squishies and toys stationerykeychainsbags & pouchescandykeychainswearablesaccessories. | | Yes |
| Inku Crate | $35.95 | 9 | $3.99 | Stationary | "8-10" items | No extra shipping charges | Yes |
Inku crate includes "8-10 Japanese stationery items ranging from notebooks & planners to pens, markers, fun accessories". 
The emphasis in this box is very much on the "fun" side of the stationary equation. Many of the items are aimed at children and are in the kawaii vein.

Price: From $35.95/month + Free Shipping Worldwide 
What has been included previous boxes
Here's a past Japanese stationery box Inku Crate that featured Pastry Scented Markers, Laundry Detergent Glue, Hello Kitty Cow Notebook, Sumikko Gurashi Paper
Zenpop Japanese Stationery boxes are still cute without being quite so eye-wateringly and brightly kawaii as the Inku crate. If you're into cute stuff, but don't want to look like a 8 year old girl with bows on her ponytails, Zenpop is a bit of a happy medium.
Their boxes feature:
High quality pens, pencils, and / or highlighters
Unique stickers for any occasion
Beautiful stylized washi tape
Sticky notes, memo pads, and / or letter sets
A lot of their boxes tend to have a bit of a "nostalgic" or slightly "retro" element to them – which I like, but may not be everyone's bag (or box as the case may be).
Price: From $35.95/month + Free Shipping Worldwide 
What has been included previous boxes
Zenpop has previously featured theme boxes such as "Creepy Critters Stationery Box", "Chill Study Vibes Stationery Box", "Memory Lane Stationery Box" and "Showa Stationary Stationery Box".


My Japan Box is like the supermarket of Japanese subscription boxes. They offer 40+ different boxes to chose from. They have food, characters, anime/manga, video games, music and…stationery.
Their Japanese Stationery Box offering includes 3-5 items per month. This is considerably less than the other stationery boxes on the list, but they do tend to have slightly more substantial items such as multi-item sets and more substantial notebooks.
They can have some interesting quite high-end stuff in them like these:

Still, given the rather high cost-to-number-of-items-included, it is questionable whether this is the most value for money Japanese stationery box on the list.
One of the advantages of the My Japan Box is that you can try out a different box from their range each month and change it up.

Price: $34 with free shipping.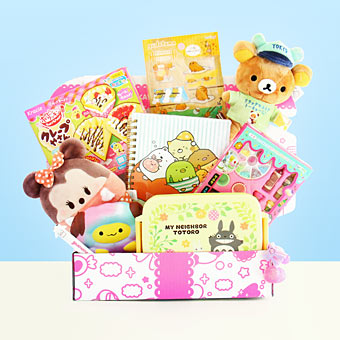 Our first "honorable mention" box on this list is the kawaii box, which as it's name suggests isn't exclusively about stationery, but includes the odd stationery item here & there.
This Kawaii Box competes with other boxes like the "Yume Twins" boxes. The Kawaii box is cheaper, though, especially when you factor in free shipping.
These boxes include all the Kawaii things you see wandering around budget shops in Tokyo and Osaka. Expect kawaii plushies and toys, stationery, keychains, bags and accessories. They also include the odd Japanese candy or sweet.
In terms of stationery, here are some of the things they include: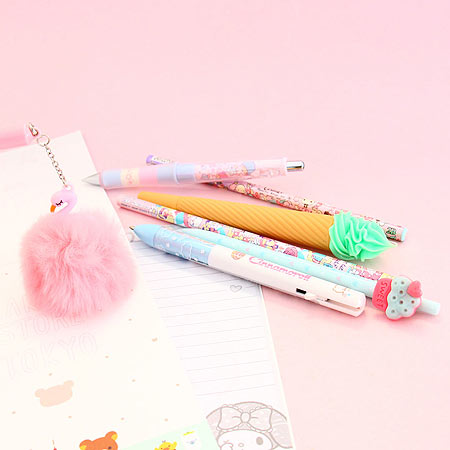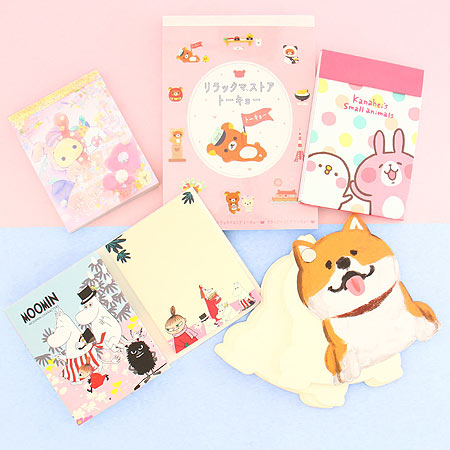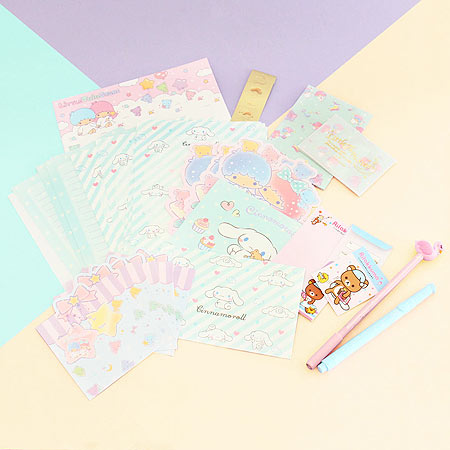 Price: $29.90 USD – includes free shipping
The Kizuna box is an honorable mention in this list, as their boxes sometimes include some stationery. Kizuna are focused on boxes that bring together a fairly wide range of objects, from plates, to napkins, to chopsticks and, sometimes, stationery. The boxes also include snacks.
The word "Kizuna" means "connection" in Japanese, and the name gives you a sense of what they are trying to do with this box. This one is not just about snacks but aims to deliver a range of Japanese cultural items. 
Their most unique offering is the "Kizuna Lifestyle Box" from Japan. The lifestyle box consists of 6 to 8 high-quality Japanese bits and bobs including ceramics, clothes, stationery, snacks and other goodies. All items are curated based on a cultural and seasonal theme, which makes sense for a Japanese, or indeed any, subscription box.
For health-conscious people they also provide a Kizuna Healthy Box, which is a nice option. Focusing on more natural, or low calorie options, these boxes include 10 to 15 Japanese snacks and sweets.

Price: Between $29.99 to $34.99 depending on the box. Prepaid option for 3 to 6 months.
Conclusion
My personal favorite Japanese Stationery Box on this list is the Zenpop box. To me, it is a good balance of cute, with functional and not too in-your-face-bright. Cost-wise it is competitive with the other boxes on the list and comes from a solid, established brand.
If only I could find a ruler, and a nice kawaii red pencil, I would rule a nice neat line at the bottom of this article. Better subscribe to another Japanese stationery subscription box…